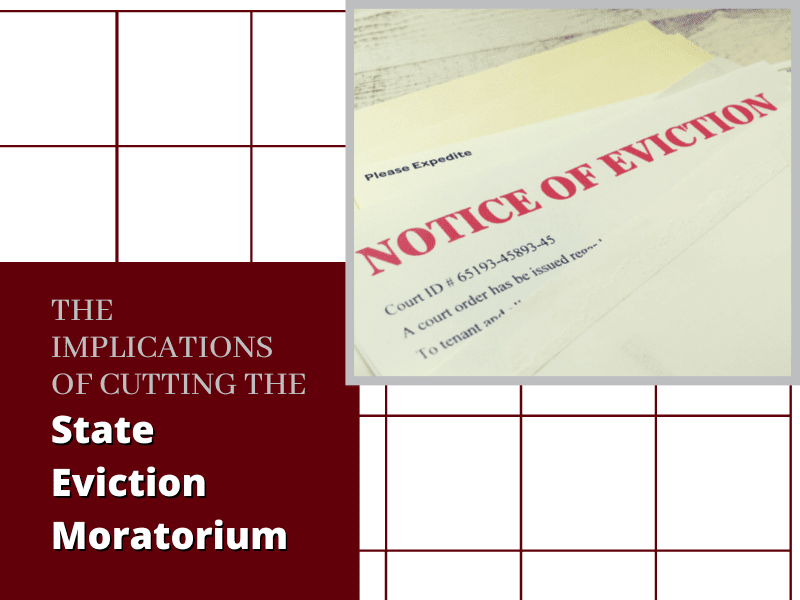 The eviction moratorium from the worst days of the COVID-19 pandemic is finally and officially over. 
That doesn't mean landlords are free and clear to evict any tenant who is no longer paying rent. The rules continue to change and while Tulare County's eviction relief program ended in March, there's still a lot of confusion about what anything means, how landlords are meant to proceed, and whether a state of emergency in California will increase the governor's powers and continue putting landlords at a disadvantage. 
What we do know is that tenants will always have more protections than rental property owners. 
We also know that it's a terrible time to try and navigate the state laws and the rental market on your own. Tulare County landlords can best protect themselves with the help of professional property managers. 
Here are some of the implications that we're facing with the end of the eviction moratorium and the increasing tenant protections. 
Prepare to Adapt Quickly 
Laws and legal interpretations are always changing. If you're not prepared, not informed, and not able to change your processes almost immediately, you're likely going to lose in the end. 
During the early days of the pandemic, a lot of people were struggling financially, but rent was being paid. 
Landlords did an excellent job of reaching out to their tenants, working out payment arrangements when necessary, and ensuring that tenants were able to stay in their homes until things turned around. Then, the eviction moratorium went into effect, and tenants suddenly had a good reason not to pay their rent. 
Most property owners in Tulare County do not want to evict the tenants who are living in their properties. They need the rental income, and evicting one tenant just means having to find another tenant. 
Rental property owners were required to act quickly and in many cases without direction as the eviction moratorium was put into place. 
If that wasn't enough, the tenant relief packages also caused confusion among landlords and tenants. The application process was not always clear and all this money that was available to help the landlords who were not able to collect rent was difficult to access. In some cases, rent relief went directly to the tenants instead of directly to the landlords. 
Unless you understood the laws clearly or you had experience working with state and federal agencies and programs, you were likely feel overwhelmed and confused during the eviction moratorium. Once Tulare County backed out of that moratorium and ended its relief program, things continued to be uncertain and inconsistent. 
Without a local property manager, you likely struggled to get the rent that was owed to you.
Outside of the Moratorium: Just Cause Eviction Laws
The COVID-19 Tenant Relief Act of 2020 was widely publicized as being a statewide rent control law. 
That's exactly what it is, but the law does more than that. It also included just cause eviction provisions. According to the law, landlords in Visalia and throughout California can only evict tenants if they have cause, such as nonpayment of rent, lease violations, or criminal activity occurring in the property. When your property needs to be rehabilitated, you can evict a tenant. If you evict without cause, you may have to pay your tenants a relocation fee. 
Three specific things must be noted when it comes to just-cause evictions:
Eviction for demolition or "substantial rehabilitation" is only permitted if a landlord needs to comply with habitability and safety laws.

Unlawful detainers for nonpayment of rent, regardless of when they're due, are not permitted for time periods prior to October 5, 2020. 

You cannot file an unlawful detainer action on unpaid rent from September 1, 2020 through January 31, 2021 against any resident who claims financial injury due to the COVID-19 pandemic until February 1, 2021. 
As you can see, the end of the eviction moratorium doesn't exactly mean we're back to business as usual. There are still hurdles that require a careful understanding of the law. 
Evicting a Tenant Now
If you're legally permitted to evict a tenant from your property in compliance with the expiration of the eviction moratorium and within the framework for just cause laws, your process is:
File a Three Day Notice. This gives your tenant three days to pay the rent or move out of the property. In our experience, most tenants will catch up with the payment before the end of the three days. If not, you'll have to move onto the next step. 

File for an Unlawful Detainer. After the three business days come and go without payment or a notification that the tenants have moved out, you'll need to go to the court and file for an eviction, which is legally referred to as an unlawful detainer.
At the courthouse, you'll file the required paperwork and pay a fee. A court date will be set and your tenants will be informed. Sometimes, tenants will come up with the rent and the eviction will be called off. Or, they'll move out of the property and you can get it back. 
Property Management in Tulare County
If you're a self-managing landlord, these are extremely difficult times. 
You may have some very good reasons not to hire a property management company, but you're also putting yourself and your property at risk. 
The eviction problem is only the tip of the iceberg. You're also dealing with stricter laws about rent control, Section 8 tenants, security deposits, and screening processes. Even if your property is exempt from some of the strictest laws – you need to have language in your lease agreement that reflects the exemption. 
As we have mentioned, these laws are always changing. Protect yourself and your property by working with a professional property manager in Tulare County. When you partner with a property management expert, you will see a much lower risk of liability and lawsuits. You'll know you're compliant with all existing laws. 
We stay up to date on how things are moving in Tulare County and California. For some help talking through the rent control and eviction situations in our state, please contact us at The Equity Group.